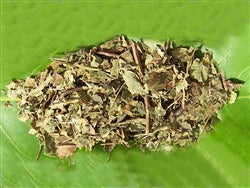 Green Bali Kratom Crushed Leaf
Description
Green Bali Kratom is an exceptional choice for individuals that are on a budget, as this Kratom strain is renowned for its long duration, high alkaloid levels and relaxing effects. We also have Green Bali Kratom for sale in powder and capsule form to suit the needs of every kratom lover.
Advantages of Crushed Leaf Green Bali Kratom
    • Can help to boost mood
    • Easy to make
    • Can be bought in bulk
If you are searching for one of the best kratom strains currently available, then you can't go wrong with Green Bali Kratom. At Kratom Herbs, we know that high-quality kratom can be hard to come by, which is why we test every batch before we order for salmonella, bacteria, metals and alkaloid content.