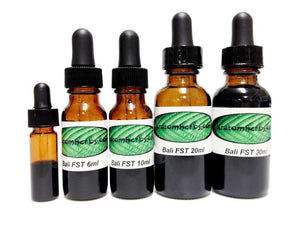 Full Spectrum Kratom Extract (Bali FST)
Regular price $17.50 Sale
Description
If you are looking for the most potent full spectrum tincture currently available, then our Bali FST is perfect for your needs. The full spectrum of alkaloids found in kratom have been isolated from Bali leaf and purified to the highest level. The alkaloids present in Bali offer a more calming aroma and just one 2ml vial contains approximately six incense portions. It takes 150 grams of Bali Leaf to produce 2ml, ensuring that you are receiving a product of both potency and purity.
Advantages of Bali Full Spectrum Kratom Extract
    • Fast acting
    • Very easy to use
Many Sizes of Full Spectrum Kratom Extracts To Choose From
    • 2 ml
    • 6 ml
    • 10 ml
    • 20 ml
    • 30 ml
    • 100 ml
From full spectrum kratom tinctures to kratom powder and capsules, KratomHerbs continues to offer the most in value to our customers. Place your online kratom order today with the best kratom vendor on the internet!