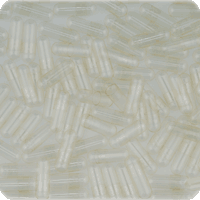 Clear Vegetarian Capsules - Size 00
Description
Our vegetarian capsules are made from HPMC (Hydroxy, Propyl, Methyl, Cellulose), a commonly-used excipient in food and cosmetics. Placing your kratom powder in size 00 capsules makes for precise and accurate servings each and every time. Not to mention that by using capsules for kratom, you eliminate the bitter smell that is commonly found in different kratom powders.
Size 00 Capsule Uses
    • Powders
    • Vitamins
    • Herbs
Vegetarian Capsule Features
    • 100-percent plant derived
    • Made entirely from HPMC
    • Irritant-free and preservative-free
    • No corn, dairy, soy, starch, sugar or wheat
    • Kosher and Halal certified
Safety Info: Do not fill capsules with liquid, as it can cause capsules to dissolve. Avoid direct sunlight, hot water or high temperatures. Doses may differ depending on the type and amount of filling in each capsule.