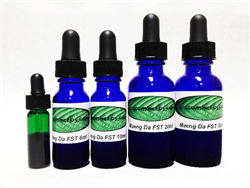 Full Spectrum Kratom Extract (Maeng Da 5x Liquid Extract FST)
Regular price $50.00 $25.00 Sale
Description
NOW ON SALE 50% OFF FOR A LIMITED TIME!
(sale prices have already been dropped in cart) 
Maeng Da 5x liquid extract is a full spectrum tincture made from a simple alcohol soak of old growth Maeng Da Leaf. This powerful kratom blend offers powerful aromas that are sure to leave you energized, and is one of the strongest incense extracts currently available.
Advantages of Golden Concentrate Full Spectrum Kratom Extract
    • Very easy to use
    • Fast acting
Several Sizes of Full Spectrum Kratom Extracts To Choose From
    • 10 ml
    • 20 ml
    • 30 ml
We know that you are searching for the best kratom online, which is why we are devoted to providing you, the customer, with pure, unadulterated kratom at a price that you will love. From size 00 veggie capsules and crushed kratom leaf to kratom powder and full spectrum extracts, we are confident that you will be more than pleased with our diverse selection of kratom products. Shop today to get started!