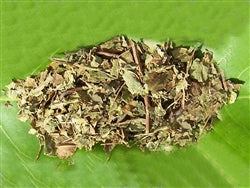 Green Maeng Da Crushed Leaf Kratom
Description
Green Maeng Da kratom is a Thai kratom strain that is grown genetically and sports the most potent aroma of all Thai leaf kratom products currently available online. Our Green Maeng Da kratom product is now available in its natural crushed leaf form, making it the perfect solution for individuals wanting to make an aromatic kratom tea.
Advantages of Green Maeng Da Crushed Leaf Kratom
    • Can help to boost mood
    • Easy to make
    • Can be bought in bulk
Available In A Variety of Sizes
    • 10 grams
    • 100 grams
    • 250 grams
    • 1 kilo
At KratomHerbs, we're more than just the best kratom vendor online. In fact, we offer the highest level of customer service as part of our continued commitment to excellence. From kratom powder and kratom capsules to full spectrum kratom tinctures, our online store is filled with the best kratom products at an affordable price.