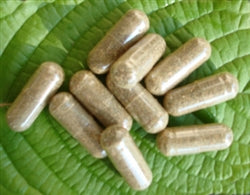 Red Vein Thai Kratom Capsules (Destemmed)
Description
If you are looking for a kratom strain that is a step up from our green vein kratom, then our red vein, destemmed Thai kratom is perfect for you! The quality and rarity of the plant itself, in addition to the extra effort that goes into destemming and deveining this kratom strain, makes for a noticeably superior product that can be purchased in a convenient incense capsule form. All of our kratom capsules come in size 00 capsules, which makes measuring your kratom incredibly precise!
Advantages of Destemmed, Red Vein Thai Kratom Capsules
    • Easy to use
    • No bitter smell
    • Precise measurements
Available In A Variety of Quantities
    • 10 kratom capsules
    • 100 kratom capsules
    • 250 kratom capsules
    • 1000 kratom capsules
Don't hesitate to purchase the best kratom found online today! With KratomHerbs, you can be confident knowing that you are receiving a botanical product possessing the utmost quality and purity. Not to mention, all orders receive same-day shipping, free of charge!