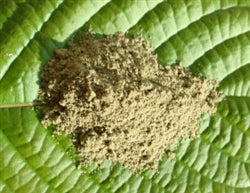 Ultra Enhanced Indo Kratom Powder (UEI)
Regular price $27.00 Sale
Description
Ultra Enhanced Indo, or UEI kratom, begins with premium Indonesian kratom leaf which is finely powdered. It has been carefully standardized and enhanced with a generous helping of ultra-pure kratom alkaloids - 1250 mg / 25 g - for astonishing aroma and convenience. Experience all that our ultra enhanced Indo kratom has to offer today!
Many Sizes of Kratom Powder To Choose From
    • 3 grams
    • 10 grams
    • 50 grams
    • 100 grams
    • 250 grams
Advantages of Ultra Enhanced Indo Kratom Powder
    • Most affordable option
    • Consistent quality throughout
    • Available in large quantities
If you are ready to place your order for our premium, ultra enhanced Indo kratom powder today, shop our online store! As part of our commitment to you, the customer, we offer free same-day shipping on every order placed. At KratomHerbs, we know that you will be pleased with our high-quality botanical products, and we can't wait to exceed your expectations!