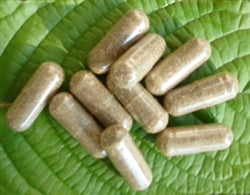 Red Vein Borneo Kratom Capsules (RVB)
Description
Our red vein Borneo kratom capsules are as uniquely rare as they are potent. In its native country, red vein Borneo kratom has a longstanding reputation for being one of the most relaxing of all kratom incenses. Harvested from old-growth trees, carefully dried, and processed in a low-heat setting, red vein Borneo kratom is very high in active alkaloids and is similar to the Malaysian Maeng Da kratom strain. This particular source receives ample rainfall all year long, which supports the best possible growing conditions.
Benefits of Red Vein Borneo Kratom Capsules
    • Precise measurements
    • Easy to use
    • No bitter smell
Available In Many Different Quantities
    • 10 kratom capsules
    • 100 kratom capsules
    • 250 kratom capsules
    • 1000 kratom capsules
When it comes time to place your online kratom order, don't just choose any kratom supplier, choose KratomHerbs! We offer free same-day shipping on every order placed and we only use the purest ingredients for your satisfaction. Shop the best kratom vendor today!